Are you tired of making do with a broken washing machine? Then Mass Appliance Service would be delighted to help remedy your washer woes. You don't have to go another day with messy leaks or other washer repair problems. Our skilled appliance repair techs have a wealth of knowledge for fixing troubles like a washing machine not draining or a washing machine that won't fill. That's the advantage that comes from 36 years in the home washing machine repair trade. Get your laundry room back up to speed soon: Call now to schedule your washing machine repairs in Rockingham County and beyond!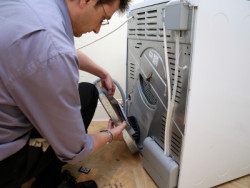 In addition to being one of the most experienced washer repair companies around, Mass Appliance Service is qualified to work on just about any residential brand or model of washer made. Unlike some washing machine repair shops, we don't shy away from certain upscale brands or lesser known makes, either. Whether you need Bosch washing machine repair or Hotpoint washing machine repair, we'll service whatever type of unit you happen to own. Plus, you can call on us for all kinds of washer repairs, including:
Leaks
Filling problems
No spinning
No draining
Inability to start
Balance issues
And more!
At Mass Appliance Service, we're happy to stand behind our washer repair service with a variety of labor and parts warranties. We'll be sure to fill you in on any warranties you receive as part of your washing machine repair service. We're a licensed and insured washer and dryer repair company, and we're committed to bringing our Rockingham County customers terrific workmanship and lasting value.
Affordable Washer Repairs
You might expect to pay higher rates for a washer and dryer repair company with so much experience to offer. However, that's not the case at Mass Appliance Service. We think you'll find our prices on laundry machine repair right in line with what other appliance repair shops in the area are asking. Our goal is to give you the best washer repair service we possibly can at prices that are fair and competitive.
In the end, our economical washing machine repair help is all about avoiding the high cost of a new appliance and extending the life of your existing washer. Call us today to get your broken washing machine back in action!